The Logs Direct Woody Awards for wood cooking caterers and restaurants
The Logs Direct Woody Awards are Britain's only dedicated awards for pizzaioli and others who create food theatre by cooking with wood. They launched in April 2015 and have already captured the imagination of chefs who get the fire started to offer a wood-fired pizza menu and other 'flaming beautiful' dishes!
Why win a Woody?
The Logs Direct Woody Awards recognise talented pizzaioli and chefs who have mastered the art of cooking with wood and thrill their customers with the aromas and taste sensations this type of cooking produces. Woody winners can be pizzerie, restaurants, pubs, cafes, takeaways and mobile pizza van operators, to name but a few. Having a Logs Direct Woody Award on show brings kudos and a morale boost, signifying food and pizza excellence from the wood-burning oven. It also brings you PR exposure, when we tell the world about your success.
How to win a Woody?
There is a chance to scoop a Woody every month, if you are a wood-fired eatery or outdoor pizza caterer that delights diners with food from the wood oven. Simply collect three customer reviews of your food and email them to [email protected]. We need the customer's name, details of what they ate and comments that demonstrate how much they loved your wood-fired food or pizzas.
Keep entering, as you may not win one month, but could be triumphant in another.
If our judges select your entry as the monthly winner, we will arrange to present the Woody to you and create positive publicity in your local media, as well as national catering press. You can shout about it too, using our hashtag #WoodyWinner and spread the news on Facebook and other social media platforms.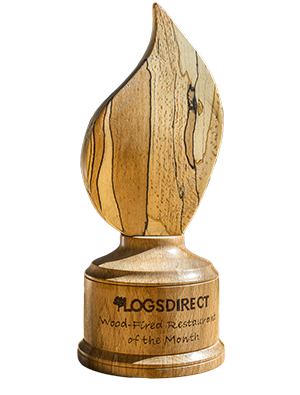 Can I Enter If I'm Not a Logs Direct Customer?
You do not have to be a Logs Direct customer to enter the Woody Awards, but cooking with kiln-dried wood will not only stand you in good stead for contention, but also avoid excessive smoking and spitting in the oven that could ruin your diners' enjoyment of their food and your venue.
Any Questions?
If you need to know anything please email [email protected]. More information about our kiln-dried wood for restaurants can be on our restaurant page.
Woody In The Press
http://www.blackpoolgazette.co.uk/news/business/local-business/woody-award-for-restaurant-1-7287481
http://www.thestar.co.uk/business/woody-award-for-restaurant-1-7287481
http://www.shieldsgazette.com/news/local-news/pizza-earns-pub-slice-of-the-glory-after-rave-reviews-1-7407759